Meagre fall in number of animals used in tests in EU in 2019 shows need for an urgent action plan
Sign our European Citizens' Initiative to help us end animal testing in Europe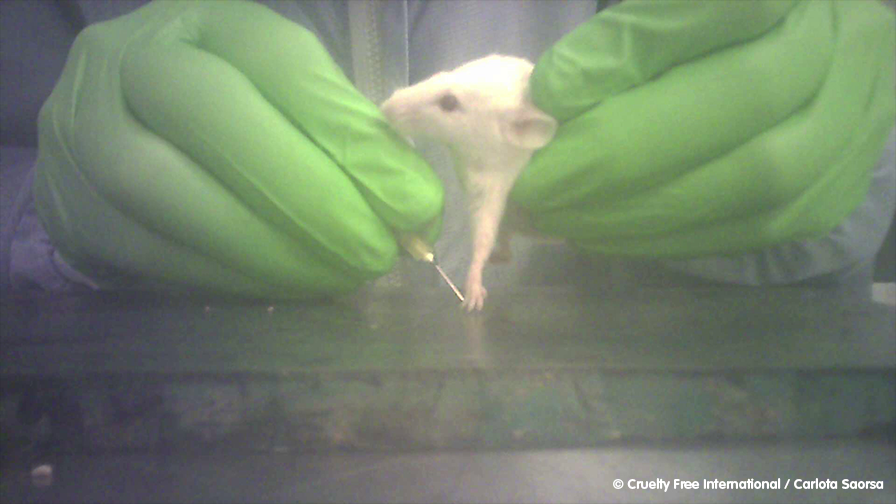 European Commission figures published this week show a decrease of just 1% in the number of animals used in laboratories across the European Union in 2019.
While this small decrease, from 10.6 million in 2018 to 10.5 million in 2019, is welcome, we had hoped to see a far bigger difference. We have seen fluctuations year-on-year but still nothing to show a determined move away from reliance on animals.
There were 9.3 million (9,339,032) actual experiments on animals. A further 1.2 million (1,207,059) procedures involved using animals with a harmful genetic mutation to create or maintain colonies of genetically altered (GA) animals. This is a total of 10.5 million uses according to the legislation governing animal experiments in the EU.
Out of the 10.5 million uses, 41% were considered by the researchers to have caused moderate (3,404,878) or severe (959,639) suffering to the animals involved.
Consistent with previous years, most tests were carried out in the United Kingdom (2,304,461; still an EU member state in 2019), Germany (2,202,592) and France (1,865,403).
2019 saw a shocking 19% increase in LD50 (Lethal Dose 50) tests on mice, from 21,313 in 2018 to 25,292 in 2019. The overwhelming majority of these tests, which aim to find the dose of a substance that kills 50% of the animals involved. This is in spite of the availability of methods that reduce the suffering of animals used.
There were 37,477 uses of the cruel and archaic ascites method of producing antibodies, which causes the most severe level of suffering – a 32% drop from 2018 figures. 2019 also saw a 21% drop in skin irritation tests and a 46% drop in eye irritation tests. While we welcome falls in the numbers of these tests that have accepted replacement non-animal methods available, there is no excuse for any of them still taking place.
In September 2021, the European Parliament voted by an overwhelming majority (667 to 4) in support of an action plan to accelerate the transition from the use of animals in research and testing to human-relevant science across the EU. The resolution called for a clear and ambitious timeline, reduction targets and milestones to incentivise progress.
In a poll carried out in 2020 for Cruelty Free Europe, nearly three quarters (72%) of adults in EU member states agreed that the EU should set binding targets and deadlines to phase out testing on animals.
Our Director of Public Affairs, Kerry Postlewhite, said:
"The EU's 2019 numbers show that far more needs to be done to end the cruel use of animals in research and testing. Despite the great progress made in the development of non-animal testing methods, and the clear desire of both the European Parliament and citizens of EU member states, these figures underline the urgent need for change – and the importance of our European Citizens' Initiative to end animal testing in Europe."
If you are a citizen of an EU member state, please send a clear message to the European Commission about
your support for the end of animal testing in Europe.