We take our 'Save Cruelty Free Cosmetics' ECI to the European Commission
We still need your help to tell the EU to end animal testing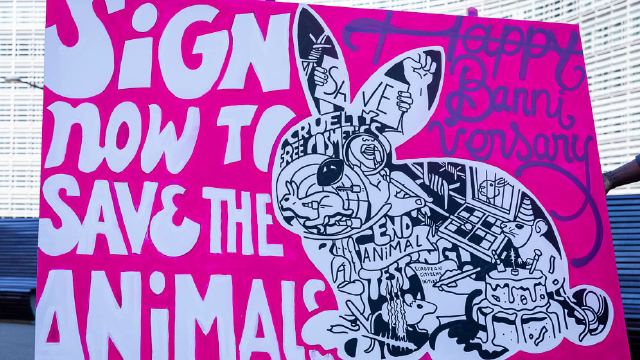 We take our successful "Save Cruelty Free Cosmetics – Commit to a Europe Without Animal Testing" European Citizens' Initiative (ECI) to the European Commission today, Friday 17 March, to make our case for ending animal testing in Europe. We are part of the ECI organising committee attending the meeting in Brussels, which also comprises representatives of PETA, Eurogroup for Animals, European Coalition to End Animal Experiments, Humane Society International Europe and our member organisation, One Voice, at which we will make the case for an end to the use of animals in chemicals tests, as well as an ambitious plan to end all experiments on animals. The ECI, which was also supported by global beauty and personal care companies The Body Shop and Dove, became only the seventh to have successfully passed the threshold of one million verified signatures when in January it was confirmed that 1,217,916 people had demanded an end to the outdated and unreliable use of animals in cosmetics and chemicals tests. A hearing in the European Parliament will follow today's meeting later in the Spring. There may then be a vote by MEPs on a motion relating to the ECI, before the European Commission gives its formal response and explains what actions it proposes this summer. Last year, the Commission committed to plan the full replacement of animal testing for managing the safety of chemicals in the European Union. Considering that a massive increase in the amount of regulatory animal testing taking place in Europe looks set under proposals relating to the Chemicals Strategy for Sustainability, defending and strengthening the cosmetics testing ban while planning a route to full replacement of animal tests is more critical than ever. Proposed changes to the REACH (Registration, Evaluation, Authorisation and Restriction of Chemicals) regulation have been delayed for up to two years , giving the Commission further opportunity to revise this key regulation in line with the commitment to transition away from testing on animals and so prevent millions more animals from suffering and dying in experiments.
Our Chief Executive, Michelle Thew, said:
"Our ECI has given a voice to the over ten million animals used in laboratories in the EU every year, and we are excited to take our case to the European Commission. Europe's decision-makers must surely appreciate the strength of feeling there is on this issue. The people of Europe have made the task for the European Commission clear: to create concrete plans to phase out animal experiments and end the suffering."
You can help us build on this successful ECI by emailing the European Commission to make sure that they listen to our call for an end to animal testing.
Use our simple tool to email the Commission.
Together, we can help achieve a Europe in which no animals suffer in laboratories.